&nbsp Sierra Nevada Backpacking, &nbsp 2000
The Sierra High Route, &nbsp Mammoth Lakes to Lake Italy
Click on any image to enlarge.

My 2000 Sierra trip was a solo, multi-day backpacking trip that followed a segment of the Sierra High Route. The High Route is described in detail in the Sierra Club totebook, Timberline Country: The Sierra High Route, authored by Steve Roper.

I had travelled a section of the High Route before, in 1993, and was eager to walk another segment. My 1993 trip covered the southern 60 miles of the route, from Kings Canyon to Dusy Basin. This year, I intended to roam another 60 mile segment, stretching from Mammoth Lakes south to Humphrey's Basin. Click here to read a description of my 1993 trip.

Roper's guidebook has since been reissued as The Sierra High Route: Traversing Timberline Country, published by The Mountaineers.


---
July, 2000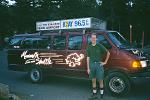 My High Route backpacking trip began at Lake George, near Mammoth Lakes. Before I could actually begin hiking, a car shuttle was in order since my entry and exit trailheads were separated by 75 road miles. I drove from my home in Phoenix to the Piute Pass trailhead, near Bishop, CA, where I planned to end my trip. I had arranged in advance for a paid shuttle driver to pick me up at this trailhead and take me to Mammoth Lakes, where I would start hiking. The shuttle came off successfully and at 7:00am on Thursday, July 27, the hike began.

I climbed to the Mammoth Crest on the Crystal Crag trail out of Lake George on a crisp, clear morning. The views into the John Muir and Ansel Adams wildernesses were extensive from atop the wide crest. Within 5 miles, I reached the significant landmark of Deer Lakes, descended slightly, and then climbed back up for my last mile on the Crest. Upon arriving at Mammoth Pass, I made a last farewell phone call to Cindy and then descended into the Sierra backcountry.
| | | |
| --- | --- | --- |
| View from the Mammoth Crest | Deer Lakes Basin | Phone call from Mammoth Pass |
My next landmark was Duck Lake, which is a rather large Sierra lake lying in a well-rounded basin. I descended to the lake's edge and then followed it to its outlet where I encountered my first fellow travellers of the day. A rather long, switchbacking descent brought me to a junction with the John Muir Trail. I walked the JMT for the next 4 miles to arrive at peaceful Lake Virginia, where I would spend my first night.
| | |
| --- | --- |
| Purple Lake | Campsite at Lake Virginia |
After a leisurely evening and a restful night, I was on the trail again, heading south to Tully Hole. The long and scenic descent into Tully Hole bottomed out at the edge of a beautiful meadow. Near here, was a large pine tree under which I had spent my first night out on my 1992 trip. I paused briefly in remembrance of that cold, rainy evening and reflected upon how I was at that time on my first, signficant, solo backpacking trip and was 1 day into what would eventually be an 11 day trip.
With my mind back on the present, I soon found and turned onto the McGee Pass Trail, departing from the JMT. I followed this trail for a mile before leaving it in favor of the trailless route to Izaac Walton Lake and beyond, as defined by Roper's Sierra High Route. Moderate climbing took me out of the forested valley and up to Izaac Walton Lake and the lower edge of timberline country, which is so plentiful and endearing in the Sierras.
| | |
| --- | --- |
| Tully Hole | Izaac Walton Lake |
Now offtrail, I made my way around Izaac Walton Lake and up a short, steep headwall to a lake-filled basin ringed by large mountains. A touch of haze was in the air and judging by the smell was from a forest fire. If indeed this was smoke, I had no idea where the location of the fire might be and no idea if it would interfere with my planned route. I pressed on, hoping for the best. After an hour of easy strolling across the basin, a gradual climb brought me to "Shout of Relief" Pass. The air had cleared and my concerns about a forest fire had eased. My next, immediate goal was in sight. Bighorn Pass was less than a mile away, but would involve travel over jumbled and difficult terrain to get there. Nevertheless, within an hour of picking my way across uneven talus, I was standing in Bighorn Pass. A long, difficult descent brought me to Laurel Lake, which was home for my second night out.
| | | |
| --- | --- | --- |
| North from Shout of Relief Pass | South from Shout of Relief Pass | Campsite near Laurel Lake |
My third day took me from lonely, secluded Laurel Lake down into deep Mono Creek Canyon, a descent of nearly 2000'. Long descents are often followed by long climbs and I would gain back 3000' by the day's end. Firesmoke was in the air again, but in talking with campers along Mono Creek I learned that the smoke was from a fairly distant fire, perhaps 20 miles away, and was thankfully not in the direction that I was travelling. I continued with my journey, climbing out of the forested valley alongside Mills Creek, toward Gabbot Pass. After several hours of sometimes steep and difficult climbing, the grade eased off and I wandered through the beautiful sub-alpine valley that is home to Upper and Lower Mills Creek Lakes. By the time I arrived at Upper Mills Creek Lake at the base of Gabbot Pass, I was struggling and ready to stop. The scenery was magnificent and of typical Sierra grandeur. I made an early camp and lounged in the luxurious, warm Sierra sunshine. The isolation in the off-trail, backcountry Sierra was a peaceful and soothing relaxant for the soul.
| | |
| --- | --- |
| Lower Mills Creek Lake | Campsite near Upper Mills Creek Lake |
Day 4 began with a short climb to nearby Gabbot Pass, which involved slow, tedious travel over varying talus terrain. I paused briefly in the pass and then descended gradually through a smooth, gentle basin toward Lake Italy, which is so named because its shape resembles the country of Italy. Lake Italy is a long lake, and after reaching its shore, I walked for nearly an hour to its outlet. At this point, I deviated from my original planned route and opted for an early out over nearby Italy Pass. I had been feeling somewhat ill and my travel had been slow, to the point that I believed I would finish behind schedule. Italy Pass presented an opportunity for an early exit, which seemed like a good idea given my present rate of travel.
| | |
| --- | --- |
| North from Gabbot Pass | Lake Italy |
The Italy Pass "trail" was a secondary trail at best. I followed the opposite shore of Lake Italy and soon departed its waters, climbing toward Jumble Lake. I quickly lost the trail and resorted to finding my own way across the difficult talus landscape. Appropriately named Jumble Lake and its surroundings represented some of the most continuously rugged talus travel that I had encountered in the Sierras. Progress was made by constantly hopping from one large boulder to the next. I exercised extreme caution, as one misstep could have resulted in serious injury. By the time I reached Jumble Lake, I was ready to stop for the day. I felt quite fortunate to have found a suitable, flat and level campsite in the jumbled terrain. As with my previous 3 nights, no bears would visit me during the night. I saw no bears on the entire trip, however, a friendly marmot did visit me the following morning.
| | |
| --- | --- |
| Campsite at Jumble Lake | A camp buddy |
Day 5 began with another few miles of careful travel over talus terrain. A long, steady climb brought me to 12,200' Italy Pass, which provided the opportunity to establish telephone contact for the first time in 4 days. By cell phone, I was able to report in to Cindy and inform her of my route change. I also arranged for a paid shuttle to pick me up at my new exit point of Pine Creek and take me to my car which was parked at my planned exit point at North Lake, some 40 miles distant. With phone calls made, I gleefully strolled down the long, descending countryside. Along the way, Granite Park provided a surprise in that its stunning beauty was an unexpected treat, like candy to the eyes. After 10 tiring downhill miles, I finished the 5-day hike happy and feeling well.
| | | |
| --- | --- | --- |
| Granite Park was stunning. | Granite Park | Pine Creek. |