The Grandview Trail, 2000
Grand Canyon National Park
Map
Click on any image to enlarge.
The Grandview trail&nbsp descends 2600' in 3 miles to Horseshoe Mesa.. This secondary trail lies approximately 10 miles east of Grand Canyon Village and is the first trail East of the South Kaibab trail. Built in the early 1890's by miner Pete Berry, the Grandview trail provided access to a rich copper mine on Horseshoe Mesa. The copper ore tested high grade, but the transportation cost of hauling ore to the rim doomed the mine to eventual failure. All mining ended on Horseshoe Mesa in 1908. Berry turned his attention to tourism, built a hotel at Grandview point, and guided sightseers into the Canyon on his Grandview trail.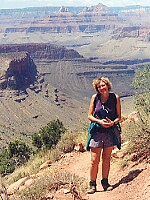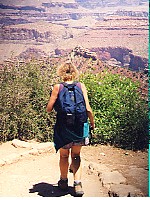 The Grandview trail is steep! The upper switchbacks were cluttered with numerous, casual, tourists looking to experience a sampling of the inner Canyon trails. After a few minutes, we left the tourists behind and continued down the trail in relative solitude. Only a few serious hikers remained -- those who were likely more accustomed to long, steep grades.


Horseshoe Mesa provided pleasant semi-level strolling that was especially welcome after the tiring descent. The remains of a stone hut provided evidence of the mining activity that existed 100 years earlier. We walked the additional 1.5 miles out to the Western arm of the "horseshoe" for a super scenic view.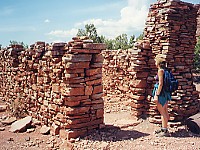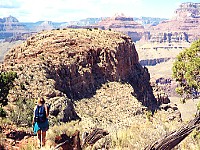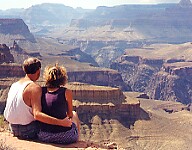 After a relaxing, hour-long lunch break, it was time to head back. We trudged back across the mesa and began the steep climb out, passing a "forest" of stunted trees.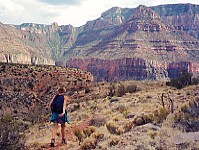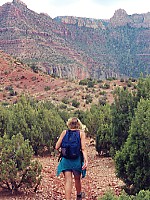 After somewhat dreading the steep grade, we found that the climb was not nearly as difficult as we had anticipated it would be when we descended. The spacious Canyon views in the late afternoon light helped to take our minds off the effort involved with such a steep trail. Our strength held and we climbed out with llittle real difficulty.