Clear Creek, 2004
Grand Canyon National Park
Map
April, 2004
On September 15, 2003, Doug Minderlen, Greg Reinhart and myself (Dave Wyant), set off to explore an area in the Grand Canyon known as Utah Flats. Our plan was to hike down the South Kaibab Trail to Bright Angel Campground at the bottom of the Canyon, then climb from the campground up onto Utah Flats and travel crosscountry into upper Phantom Canyon. We would spend a day exploring upper Phantom and Haunted Canyon, then travel down Phantom Creek to its confluence with Bright Angel Creek a mile north of Phantom Ranch. From there we would climb back out the South Kaibab Trail and drive home to Phoenix.
After a pleasant night in the forest south of Tusayan, we started down the South Kaibab Trail at the leisurely hour of 7:30am. The temperature was comfortably cool at this hour of the day and the 7000' altitude, and was a welcome change from the heat that we had been battered with all summer in Phoenix.. The trail was surprisingly crowded and we sauntered down amongst a horde of people. However, crowds are relative and this plethora of people was really only a small sampling of what a hiker typically sees on the more popular Bright Angel Trail. We were glad to be on the South Kaibab, not only for its lesser crowds, but also for its immensely more scenic views.

In short time we reached Cedar Ridge and continued along the trail, leaving half of the crowd behind. The trail was much more reasonably populated at this point and we were happy. Another hour brought us to super-scenic Skeleton Point where we stopped to admire the view. At this point, we had a splendid view across the river into the area of our destination of Utah Flats and upper Phantom Canyon.
| | | |
| --- | --- | --- |
| South Kaibab Trail | Skeleton Point | Black Bridge |
| | | |
| --- | --- | --- |
| View East | View West | Zoroaster Temple |
We continued on down the trail and soon arrived at the Colorado River, crossed the Black Bridge and walked up Bright Angel Creek to Bright Angel Campground. After stopping for a lunch break and topping up on water, we began the steep climb up from the campground toward Utah Flats, which is essentially the Tonto Platform on the north side of the Colorado, west of the Phantom Ranch area. The climb begins on a non-distinct, unmarked secondary trail from the northern end of the northern most campsite, and climbs with a vengance right from the start. It is easy enough to follow as it makes its way up the steep slope.
After 30 minutes of scrambling up the steep slope and maneuvering ourselves and packs up a short cliff, we arrived at a level spot and viewed the next portion of our climb, a gully that has been nicknamed Piano Alley. Piano Alley is so named because of the jumble of large, flat boulders that supposedly are about the size of grand pianos. We scrambled though this section and yes, it is boulder choked, but none of us would have intuitively thought of grand pianos as we clambered through this interesting boulder field.
| | | |
| --- | --- | --- |
| Tonto Platform | Clear Creek Descent | Campsite, 1st two nights |
| | | |
| --- | --- | --- |
| Ammo can | Filtering Water | Cooking |
After climbing for a little more than an hour, we topped out at the edge of the plateau containing Utah Flats. Following a short rest, we continued to the northeast on an indistinct trail that occasionally disappeared. Utah Flats did indeed look a bit like southern Utah, with its proliferation of red slickrock. It was a beautiful, sunny day and we were glad to be on a cross-country route, devoid of the many hikers that wander the Bright Angel and Kaibab corridor trails. We would see no other hikers for the next 48 hours.
After meandering across gentle terrain for a few miles, we found ourselves on the brink of Phantom Canyon and facing a steep, 800' descent to Phantom Creek. At 4:00pm, we arrived alongside lovely Phantom Creek, crossed to the opposite side, and claimed a nice existing campsite. Minutes later, the sun disappeared behind Isis Temple and we were left in the comfortable shade on a 90 degree day.
| | | |
| --- | --- | --- |
| Day 2 -- off to explore | Clear Creek downstream | Arrival at the waterfall |
| | | |
| --- | --- | --- |
| The Waterfall | Greg scrambles down | Playing in the Creek |
We slept in on our second day, not having any particular plan and all day to do it. After lounging around camp until nearly 9:00am, we set off to explore a little further up Phantom Creek and to check out Haunted Canyon. In a mile, we came to the noteworthy location of Overhang Camp and looked it over. This camp was not as appealing as our campsite and we were glad that we did not make the extra effort to get to Overhang Camp on our first day.
Shortly thereafter, we reached the confluence of Phantom and Haunted Canyons and turned right, into Haunted Canyon. An occasional, sometimes faint trail guided our way up-canyon as we looked for an Indian ruin that we had read about in an online newsgroup. By the time we reached the spring which is the primary source of water in this out of the way side canyon, we had given up on finding any remarkable ruins. A small hole up on the side of the canyon wall appeared to be some sort of Indian dwelling or storage area, but it was not a significant ruin. We headed back.
| | | |
| --- | --- | --- |
| Day 3 -- off to explore | Clear Creek upstream | Cheyava in sight |
| | | |
| --- | --- | --- |
| Cheyava Falls | Sitting in the waterfall | Laying in the waterfall |
As was done the previous day, we again arrived back at our campsite around 4:00pm. The remainder of the day was spent playing in the creek, lounging around camp and generally goofing off. Although our day's journey of exploration was short, it was a bit tedious fighting our way through the numerous instances where we would lose the trail in Haunted Canyon. We were tired, or lazy, or both.
Toward nightfall, we explored a short distance downstream to see what was in store for us the next day. Our plan had been to follow Phantom Creek downstream to Bright Angel gorge, but we were surprised to learn that a significant waterfall (20 feet?) blocked our path. Not seeing an easy way around it in the waning light, we resolved to worry about it tomorrow.
| | | |
| --- | --- | --- |
| Head back to camp | Back at camp | A last dip the creek |
Day 3 dawned bright and sunny, just as the previous two days had been. Fall hiking in the Grand Canyon is typically ideal, weather-wise and this trip was no exception. We packed up and then left our packs to better checkout the downstream obstacle of the 20' waterfall.
After much contemplation and speculation, we realized that we could not safely descend this waterfall without the use of a rope, which we didn't bring with us. Greg felt as though there was some chance that we could shimmy down a thin log that someone had propped up against a ledge, but neither Doug or I were willing to chance it. If unsuccessful, the resulting 12-15' fall could hurt. We were sorry that we had not researched this obstacle more thoroughly prior to the trip, as we all felt as though there was a defined bypass around the waterfall, but we were unable to intuitively find it. Later, we would discover that the bypass does exist, but would may required several hours of trial and error exploration to discover it. There were no cairns or other markings that we could spot which might mark the way. In the end, we chose to do the safe thing and backtrack our route across Utah Flats.
| | | |
| --- | --- | --- |
| Climbing back out | Good Views | Tonto Platform |
| | | |
| --- | --- | --- |
| 6 more miles to camp | Strolling the Tonto | Tonto Views |
| | | |
| --- | --- | --- |
| Campsite near Sumner | Enjoying the evening | Sunset |
We climbed back up to the high plateau and retraced our steps back across Utah Flats. After maneuvering down Piano Alley, we took care to search and find an alternative route around the short cliff face that we had climbed up on the way in, two days ago. We did manage to avoid the cliff by taking a steep and less distinct trail (of sorts) to the north of the cliff. By noon, we were back at Bright Angel Campground and lounging in the creek to cool off before climbing out the South Kaibab Trail on this near-100 degree day. Its amazing to think how many times we had passed through this area and not stopped to wet down in the creek before a hot climb. It sure felt good!
| | | |
| --- | --- | --- |
| Start of the last day | Back at Phantom | Head up the Kaibab |
At 1:00pm, we were rested, fed, wet, and starting up the South Kaibab Trail. Although the temperature was in the upper 90's the September sun was not so intense and a nice breeze kept us comfortable. Over the course of the next 4-1/2 hours, we slowly and steadily climbed the prettiest trail in the Grand Canyon (in my opinion), which provided a spectacular end to a pleasant trip.
| | | |
| --- | --- | --- |
| Below the Switchbacks | Above Cedar Ridge | Ooh Aah Point |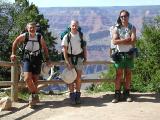 Finished - South Kaibab TH